Welcome to
The UK's national Austin Healey Club
Healey Christmas Cards
We are pleased to announce the availability of our range of 7" x 5" Christmas Cards in 13 different designs.
Cards are available to order either through the Thames Valley Website or by using the order form below.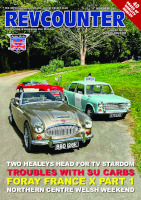 ***REVCOUNTER NEWS***
Revcounter – JANUARY 2024 Edition – Press Copy Deadline
Owing to the upcoming Christmas Break, our printers have advised me of the following information. In order to ensure that the January 2024 edition is delivered to you at the beginning of the month, please note that for the JANUARY edition ONLY the press deadline for all copy will be

FRIDAY 1st DECEMBER, 2023

A few days in the Beautiful 'Garden of England' staying at The Village Hotel, Castle View, Forestal Road, Maidstone, ME14 3AQ.
Visit the World Famous Leeds Castle, The Historic Dockyard at Chatham with optional visits to Local Attractions. Good Food, Good Wine and Excellent Company.
Chatham Historic Dockyard needs little introduction being a home for the Royal Navy from 1567 to 1984. Interestingly in 1667 it witnessed one of the worst defeats of the British Navy by the Dutch Fleet during the second Anglo Dutch War. Overall the Dockyard provided over 500 ships for the Royal Navy during a period of 414 years.
Leeds Castle has an equally interesting history starting in 857 and in the 16th Centuary became a home for Catherine of Aragon. In the 1930s it was bought by the the Hope Baillies, Sir Gawaine, the 7th Baronet was an amateur racing driver , engineer and industrialist. He was heavily involved in Saloon Car Championships driving a variety of cars across the world.
To Book Your Place go to www.healey-weekend.com.
You can now find your local Noggin and Natter using our interactive map view.
Each of our centres have regular meetings throughout the UK, where members can come along and chat about all things Healey. If you're puzzling over what insurance to get, where to obtain that vital spare part, want ideas for runs out, come along and have a natter. If you've never been before, it's worth dropping a line to the organiser to let them know you're thinking of coming.
And with the summer months now upon us, it also gives a good excuse to get the cars out and blow the cobwebs off.
Here you will find the details of traders who offer discount to members of the Austin Healey Club.
Check out the discounts on offer and how to claim your discounts on our Discount Corner page page under the Market Place menu item above.
To claim your discount, you may have to give your membership number, show your membership card or give a specific discount code. The discount codes are available in the Members Area only!
Currently discounts are also offered by Adrian Flux Insurance, ClassicLine Insurance, Longstone Tyres, Equipment4Garages, TMS Motorsport, Kimberley Media, PowerLite, English Wheeling Courses and more.
*NEW* We have also just added a new offer for 2021 with A-Head 4 Healeys. See the Members' Area for full details.
Our extensive archive of RevCounter magazines has been expanded through the ages to include issues from 1972 to 1999, allowing you to delve back into Healey history and see what we got up to "back in the day".
A big thanks to Jim Palmer for his dedicated efforts in making this possible.
To make this vast repository more useful, the new archive has been made searchable, so if you are looking for a person or an event, you can now search for it and see a list of issues containing that text along with a snippet of context information.
Our online Regalia Web Shop is still open for business. We have a wide range of ladies and gents clothing, hats, umbrellas and more. Clothing is available in a range of sizes and colours. The shop also sells our usual stickers, badges and lapel pins. Some items may also be personalized to make them that little bit more special.
For more details and access to the shop, see the Regalia Page.
Our resident bookworm has been burrowing his way through past issues of RevCounter and has produced a definitive index of all the technical articles that we have ever published. This index has been turned into an interactive hierarchical web page that should allow you to find and download individual articles relating to any given topic. The index also includes all the Norman Nock articles as well, making it a great reference for all things Healey.
To access the new Technical Index you will need to sign into the Members' Area (or register for a Members' Area account if you haven't already got one). The index can be found here.
STOP PRESS
WE NOW HAVE YouTube VIDEOS ON THE CLUBS WEBSITE INCLUDED IN THE TECHNICAL ARTICLES SECTION.
FOR INSTANCE, CHECK OUT – FUEL SYSTEMS – CARBURETTORS - HOW TO SET UP AND TUNE SU CARBURETTORS
Do you have something to sell? Are you looking for something for your Healey? Take a look in our Small Ads section for cars, parts for sale, parts wanted, books and more.
Want to advertise in the Small Ads section of the magazine and website? Details can be found on the 'Classified Ads' form. Simple ads are free for members. Photos can be added for a small fee. Commercial advertising is also available.
Since the 70's the question has been asked, "how many cars do you think still exist?". From this early remark some keen enthusiasts started collecting numbers, and these became the Marque Registers. Over the years, the Registers have evolved to building up histories of individual cars, how they survived, how they were modified and who owned them.
In order to keep the Registers going, our Register Secretaries need your help. You can now register your cars online using a simple step-by-step form which guides you through gathering information like chassis and body numbers through to the original colours and options on the car when it was built. You can also add photographs and documents to help complete the history of your car.
To get started, or to contact one of the Register Secretaries, please visit the Marque Registers page. This section is open to all, and you do not need to be a member of the club to fill in a form.
Are you a UK Club member? Register & Sign in to access a whole range of technical articles, an archive of the last ten years' RevCounters or check out your membership details.
Find out more by clicking here
Did you know that the Austin Healey Club can provide members with free valuations* for insurance purposes? See more on our valuations page - click here.
* Our valuers may, in certain circumstances, need to charge nominal expenses.